Buick Rendezvous Warning Lights
---
Select Your Model Year...
Choose the appropriate model year for the Buick Rendezvous you are trying to find the warning lights for from the list below.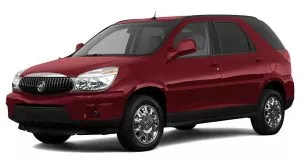 About the Rendezvous
The Rendezvous was Buick's briefly successful mid-sized crossover SUV. Lasting just five years, the Rendezvous was a workhorse of a family car and had a corporate counterpart, the Pontiac Aztec.
This was Buick's first foray into the crossover market, offering a 4-speed automatic transmission with a V6 engine and the opportunity to upgrade to all-wheel drive. Buick made use of the same platform (the U Platform) that was used for their short-wheel-based minivans. The Rendezvous boasted a large carrying capacity, the biggest in fact since the Roadmaster Estate Station Wagon.
Marrying luxury with carrying capability, the Buick drove more like a car than a truck despite having the ability to carry 7 passengers. The Rendezvous was manufactured at the General Motors Ramos Arizpe Plant in Mexico. Circular chrome trim was used in abundance on the interior in a bid to give it a more luxurious feel, it was supposed to mirror expensive watches or bracelets. Other options were included such as outside temperature reading, a compass, fuel economy measurements and tire pressure monitoring on the top-level model CXL.
Marketing toward busy families, efforts were made to include plentiful storage and power points for things like cell phones and laptops. The Institute for Highway Safety dubbed the Rendezvous 'Acceptable' but failed to perform a side impact test.
This Rendezvous was a much-needed success for Buick, their core demographic rapidly aging and losing buying power, this model appealed to younger, wealthier customers. Its success was widely attributed to its price tag, the Rendezvous was a good $6,500 cheaper than its main competitor the Acura MDX. Initially, Buicks sales targets were nearly doubled in its early years, but these quickly fell to nearly a third of its previous annual figures, Buick withdrew the Rendezvous from the market in 2007.