Buick Cascada Warning Lights
---
Select Your Model Year...
Choose the appropriate model year for the Buick Cascada you are trying to find the warning lights for from the list below.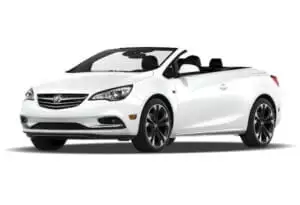 About the Cascada
The Buick Cascada is an internationally manufactured front-engine, front-wheel drive, 2-door, 4-passenger subcompact convertible.
Known as the Opel Astra in most of Europe, the Cascada is actually sold under four badges, Opel, Vauxhall, Holden and Buick. Spain is the only country in which the nameplate is changed however, called the Opel Cabrio (which translates to simply 'Convertible.')
The Cascada was engineered by Mark Adams at Opels 'International Technical Engineering Centre' in Russelsheim in Germany. The styling of the vehicle was undertaken by Andrew Dyson and Elizabeth Wetzel, who created the exterior and interior aesthetics respectively.
The Cascada was unveiled at the Geneva Auto Show in 2012 and then production started a little later in Gliwice, Poland. In total, 48,500 units were produced, all of which were built off the Delta II Platform along with General Motors' other front-wheel drive vehicles and SUVs such as the Vauxhall Astra.
The trim variations depend upon the badge, but all share an electric parking brake, sports seats, automatic headlights and cruise control. The Cascada was designed purely to be a convertible (unlike many other lines where a convertible hood was added as an optional extra).
Its roof is made of fabric rather than a hard shell and relies on electro-hydraulics to raise or lower depending upon the weather. The roof can be manipulated at speeds of up to 50 kph. A heated glass window lies flush with the fabric which is double-layered, primarily to reduce road noise and keep the warmth in.
Every single Cascada is subjected to rigorous testing performed in a water test booth. 24 jets are aimed directly at the roof to ensure no leakage happens before sale. In terms of safety, should the Cascada roll, spring-loaded safety bars pop out when the airbags are deployed forcing the car to sit 14 inches from the ground so as not to crush the driver.