Select Your Model Year...
Choose the appropriate model year for the BMW X4 you are trying to find the warning lights for from the list below.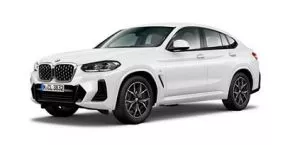 About the X4
The BMW X4 is a compact luxury SUV that first hit the roads in 2014, receiving a major facelift in 2018. It aims to rival top competitors, like the Alfa Romeo Stelvio and Audi Q5, by offering a great driving experience, a stylish exterior, and a good range of engines. However, the X4 seems inferior to the company's own, cheaper, X3 SUV. There is almost no reason to spend the extra money on the X4, which makes the car a little obsolete in the market. Nevertheless, the X4 is still great compared to other competition, but falls short when compared to the company's other models.
Under the hood, base X4's come equipped with a 2.0-liter four-cylinder engine which produces 248 horsepower, thanks to a turbocharger. This engine will get the car from 0-60 in just over 6 seconds, making it one of the quickest compact SUVs on the market. This engine is also smooth, quiet and refined, and one of the best base engines of any SUV.
If you're looking for a little more power, the German company also offers a 3.0-liter turbocharged six-cylinder engine, which produces 382 horsepower. This will take the 0-60 time down to just 4.2 seconds, which is seriously quick for a car of this size.
The overall ride of the X4 is very impressive. The suspension is perfect for everyday use and will soak up the majority of the bumps and potholes on the road. The steering is also light and agile, making the car a joy to drive.
This is also a very safe car and there are some great safety features that come as standard. For instance, all X4's come equipped with extremely accurate warning lights and sensors, as well as lane-departure warning and adaptive cruise control.