Genesis G90 Warning Lights
---
Select Your Model Year...
Choose the appropriate model year for the Genesis G90 you are trying to find the warning lights for from the list below.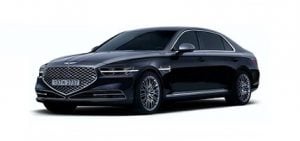 About the Genesis G90
The Genesis G90 is a full-size luxury car that attempts to attract buyers with its incredibly low price tag. You may be drawn to think that the bargain price means that the company has cut corners in several areas, but you would be wrong in thinking this. The G90 is near perfect in every area, allowing it to keep up with top rivals like the Audi A8 and Volvo S90. The engines offer immaculate performance, and the interior and exterior are some of the most stylish on the market. Although, the G90s handling could do with a little updating.
When it first came to the USA in 2017, all G90s came equipped with a 3.3-liter V6 turbocharged engine, which produces around 300 horsepower, and is one of the most respectable engines on the market, even being able to keep up with some V8s.
As the years went on, the company started to offer a 5.0-liter V8, which produces 420 horsepower. For the 2022 model, this is probably the best choice. It's not quite as quick as top competitors, but for everyday tasks, the G90 feels quick and powerful. The V8 also makes a lovely noise.
The overall ride of the G90 is pretty disappointing. The suspension feels great, but the handling makes the G90 feel slow and sluggish at some times. So, if you're looking for a top-performing luxury car, the Genesis G90 might not be for you.
Luckily, the interior of the G90 is simply beautiful. Not only is the cabin made of high-quality materials, but it's also very pretty, and comes with ample room for passengers and luggage.
The company has also been very adamant about packing the G90 with all the latest tech. For instance, a touchscreen infotainment system and automatic warning lights come as standard on all models.