Nissan Xterra Warning Lights
---
Select Your Model Year...
Choose the appropriate model year for the Nissan Xterra you are trying to find the warning lights for from the list below.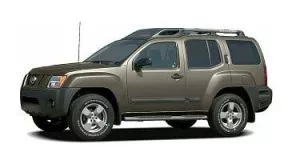 About the Xterra
The Nissan Xterra was a long-running SUV that enjoyed many years of production from 1999 to 2015. It came as either a 2WD or 4WD drivetrain and was built in 2 generations, the first running from 1999 to 2004, and then an updated version from 2005 to 2015.
The Nissan Xterra was constructed as a more "rough and ready" style of SUV from the Japanese automaker, unlike their more premium X-Trail. It wasn't trying to compete with luxury Range Rovers or other more stylish SUVs. Some even went as far as to say that the Xterra was the only "honest" SUV out there.
The first generation certainly made no luxury pretense, with its boxy frame, strong straight lines and trims all in hard, durable plastics and similar materials. It was nothing like today's models which tend to be lined in chrome and other higher-end looks.
The second-generation first debuted at the New York International Auto Show in 2004 with a somewhat more rounded and softened overall look. However, its 4.0L V6 engine outputting up to 265-hp helped to prove that this was still a function-focused SUV that was not ashamed of its pickup truck ruggedness.
A 2011 facelift delivered a number of added features, including Bluetooth hands-free phone, controls on the steering wheel, a new version of the NissanConnect infotainment system, new 16-inch alloys, silver paint for the grille and under guard, upgraded HVAC controls and heated seats.
It maintained a small and unassuming grille on the exterior, even when the silver paint came in. Features like its rear differential locker, optional roof-mounted lights, and simple, functional but comfortable interior, were kept in place once installed, despite several updates along the way.
The way that the Xterra evolved while remaining affordable was a winning formula for a while, but eventually, time and technology requirements caught up with it. With sales falling and new demands being put on it for costly safety upgrades, Nissan decided to discontinue the line.