Nissan X-Trail Warning Lights
---
Select Your Model Year...
Choose the appropriate model year for the Nissan X-Trail you are trying to find the warning lights for from the list below.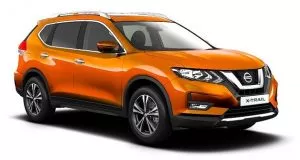 About the X-Trail
The Nissan X-Trail is one of Nissan's many SUV models, initially built and marketed as a smaller more compact version of the Xterra, but later it evolved into what is now called the Nissan Rogue. The X-Trail name was used from the start of production in 2000 until 2012. From 2013 onwards, the model entered its 3rd generation and became the Nissan Rogue in many markets, with the 4th-generation models being released in 2021.
Markets that retain the X-Trail name include Australia, the UK, and several major markets in Asia. In North America, they are firmly using the Rogue name. As we mentioned, its first 2 generations were very reminiscent of the Xterra in design, with a boxy, truck-like frame, large windows, a simple interior, and a stronger focus on function.
The later X-Trail models had a great deal more fashion injected into them, and became more closely related to the best-selling Nissan Qashqai, and helped inform the overall design DNA for most of what we now recognize as Nissan SUVs.
In its latest form, the X-Trail features terrific modern looks and features. The lines are cleaner and sportier, there's a rear spoiler, hands-free tailgate, a more attractive and well-appointed cabin with leather seats, modern infotainment system, a flat-bottom steering wheel, Nissan Safety Shield ADAS and safety features and an optional Bose premium sound system.
The Xterra hasn't lost its sense of function, however, offering a 2- or 3-row setup allowing for seating of up to 7 passengers, ideal for families. The inclusion of Nissan's latest safety features such as automatic emergency braking, blind-spot warning and intelligent cruise control all contribute to making this one of the safest SUVs on the market.
On top of everything, the X-Trail is well placed in the middle of Nissan's range, with prices around $26,000-27,000 as the starting point --- a very accessible price for a lot of families.