Mercedes Benz CLK-Class Warning Lights
---
Select Your Model Year...
Choose the appropriate model year for the Mercedes Benz CLK-Class you are trying to find the warning lights for from the list below.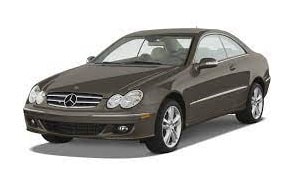 About the CLK-Class
Originally, the CLK-Class was a mid-sized luxury coupe and convertible that sold between 1997 and 2010.
Mercedes-Benz, the German automaker, used the E-Class as inspiration for the CLK-Class and used the mechanics and underpinnings of the slightly smaller C-Class. In terms of size, the CLK-Class sits between the SLK and the CL.
Competing against the BMW 3 Series, the 6 Series, the Audi A4 Cabriolet and Maserati, the CLK-Class filled a gap in the market with two versions, the 4-cylinder CLK 200 and the four-cylinder supercharged CLK 230 Kompressor.
In 2000, Mercedes updated the vehicle with a new instrument panel, steering wheel with controls added, differently styled bumpers and side skirts and the option to add the all-new sports package. A cabriolet variant was released in 2002 with an additional AMG line package which upgraded the suspension and brakes.
The second generation (codenamed C209 and A209) was available in a hard top or soft, in petrol or diesel and a number of engine variants. Customers at the time could choose their CLK-Class in a 2.6-liter V6, 3.2-liter V6, 5.0 liter V8 or a 2.7-liter inline 5-cylinder diesel engine.
Ultimately, the CLK-Class was replaced by both the C207 E Class coupe and the A207 E-Class convertible. Sales in Europe started strong, reaching an annual height of 57,880 up until 2005 when the figures took a downward turn. In the end, in 2010, Mercedes-Benz only managed to sell 221 units and so the vehicle was pulled and a successor produced.