Mercedes Benz A-Class Warning Lights
---
Select Your Model Year...
Choose the appropriate model year for the Mercedes Benz A-Class you are trying to find the warning lights for from the list below.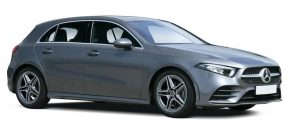 About the A-Class
The Mercedes-Benz A-Class is the entry-level subcompact car made by Mercedes, placing below the CLA-Class, and C-Class sedans that come above it. Some people have even taken to calling the A-Class the "Baby Benz." That term isn't new, however, because it was originally applied to the compact Mercedes 190 sedan back in the 1980s.
When the A-Class first arrived back in 1997, it was classed as a 5-door hatchback but really looked a lot more like a compact minivan with its high sides, and the fact that it was "related" to the Mercedes-Benz Vaneo minivan series. The design started to soften with the arrival of the second generation in 2004, but it was the third generation in 2013 that brought the sleeker, more coupe-like hatchback design that most now associate with the A-Class.
The radical changes made to the A-Class in 2013 were a direct response to German rivals such as BMW and Audi releasing their 1 Series and A3 respectively. The idea was to create a more youthful, energetic, sleeker car that younger drivers would want to buy. After all, today's A-Class owners could well be tomorrow's C-Class owners, and by the day after tomorrow be S-Class owners.
The A-Class still represented great value even in its current form with starting prices in the 2022 model year of around $35,000 for the base-level A220 trim. The AWD 4Matic version is only an additional $2,000. Great value continues with the car's fuel economy, typically achieving 25-mpg in the city, and up to 35-mpg on the highway --- better than some competitors like the Acura ILX, but not as strong as the original rival the Audi A3.
Many buyers have always liked that Mercedes-Benz doesn't skimp on luxury, even for its "entry-level" models, unlike some other OEMs. The interior of the latest models offers flair and great technology offerings, including a large infotainment display, digital instrument cluster, with a more retro sense delivered by the three circular air vents on the center stack.