Mercedes Benz CLA Warning Lights
---
Select Your Model Year...
Choose the appropriate model year for the Mercedes Benz CLA you are trying to find the warning lights for from the list below.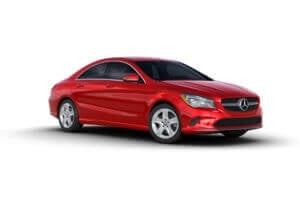 About the CLA
Mercedes-Benz has one of the most eclectic car ranges anywhere on the automotive market. The CLA-Class is a compact executive car that they have manufactured since 2013, initially sold as a 4-door sedan version of the A-Class and B-Class, but then evolving into its now more familiar coupe style. There are 2 generations in total, the first running from 2013 to 2018, and the second from 2019 to the present.
A number of interesting variants of the Mercedes-Benz CLA have emerged over the years, including the Edition 1 (2013-2015), the Shooting Brake (station wagon layout - 2015-2019), the Mercedes-AMG CLA 45 (2013-2018), and so on.
The CLA was at first considered to be the more "budget-friendly" Mercedes-Benz model, but was soon replaced by the V177 A-Class model in that respect, which has allowed the second-generation CLA models to become larger, wider and more luxurious. The CLA is now positioned firmly above the A-Class in the lineup pecking order, and is almost on equal footing with the popular C-Class sedan.
Powertrain options for the CLA have been numerous over the years, but mainly focused on either 1.5L or 2.0L inline-4 units. The most powerful engine produced was the CLA 45 AMG 4MATIC engine for the Mercedes-AMG CLA model. This unit delivered up to 375-hp and 350 lb-ft of torque. There were also a range of diesel engines available in certain markets.
The latest-generation models include a plug-in hybrid variant, which is available in the new coupe and shooting brake styles. The underside of the new CLA models is also completely flat, which brings down the drag coefficient to 0.23, making it an incredibly aerodynamic and fun-to-drive model.
Ironically, the Mercedes-Benz CLA has been incredibly well received by long-aspiring Benz owners who can now break into the brand via the CLA route. More old-school Benz fans, however, are more skeptical, saying that they think the CLA breaks away from the "traditional" style of a Mercedes-Benz far too much.