Mazda CX-3 Warning Lights
---
Select Your Model Year...
Choose the appropriate model year for the Mazda CX-3 you are trying to find the warning lights for from the list below.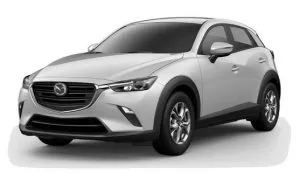 About the CX-3
If you are driving a Mazda CX-3, then you have probably seen the warning light on your dashboard.
This page lists what each of these lights means and how to fix them if they come on while you are driving.
If one of the lights is coming on when it shouldn't be or stays lit when it should turn off, then contact an automotive technician immediately.
This CX-3 sits at the bottom of the Mazda crossover SUV fleet under the recently introduced CX-30.
Common Warning Lights
Some of the most common warning lights you can encounter when driving the Mazda CX-3 include:
Low tire pressure warning light:
This is a reminder to check your tire pressures.
If the values are incorrect, it can lead to poor responsiveness and reduced fuel economy.
It will appear on the dashboard if tires need inflating or deflating (typically around the 20% of normal range).
Traction control malfunction indicator:
This appears when the system detects a malfunction.
It turns on and off in conjunction with the engine, so may not always be visible once you start driving.
Service required indicator:
This shows that your CX-3 needs attention from an approved dealer to ensure it is safe to drive. You should contact them as soon as possible.