Lincoln Continental Warning Lights
---
Select Your Model Year...
Choose the appropriate model year for the Lincoln Continental you are trying to find the warning lights for from the list below.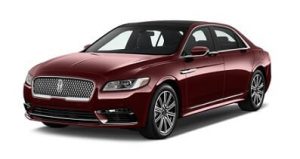 About the Continental
While some only are aware of the modern tenth-generation Lincoln Continental models launched in 2017, the Continental badge actually has a much longer history going all the way back to 1940 when the first model years were released.
The inspiration for the Lincoln Continental was a vehicle first created for Edsel Ford, son of Henry Ford - of parent company Ford Motors. The idea was to create a Lincoln convertible that would work as their vacation vehicle, as well as a rolling advertisement for the Lincoln brand. The name "Continental" refers to its European styling elements, in particular a rear-mounted spare tire.
Later generations of the Lincoln Continental were made famous --- and sometimes infamous --- by their use as presidential state cars from 1961 to 1977, including the one in which President John F. Kennedy lost his life during a visit to Dallas in 1963.
The tenth-generation Continental models were released in 2017 as a successor to the outgoing Lincoln MKS models. They had an unfortunately short production run up to 2020 when Lincoln started its shift to sell only SUVs.
The Lincoln Continental sedans were powered by 3 different engine choices, all V6: a 3.7L unit delivering 305-hp, a 2.7 twin-turbocharged unit delivering 335-hp, and a 3.0L twin-turbocharged unit delivering 400-hp. Acceleration was definitely not a weakness as the Continental Reserve trim could manage 0 to 60 in just 5.0 seconds.
As one of the last outgoing Lincoln sedan models, the Continental suffered somewhat from a dated interior that failed to meet the increasing international standard within its segment. Some high-quality materials such as brushed aluminum, real wood finishes, chrome and soft leather, among others, were nice touches, but the inclusion of cheap plastics in a car starting at $47,300 in the 2020 model year was unforgivable.
Of course, upgrading to the Black Label trim was a good way to ensure greater quality, but its starting price of $71,200 was hardly competitive. Lincoln has since redeemed itself with its latest generations of SUV interiors.