Select Your Model Year...
Choose the appropriate model year for the Lexus NX you are trying to find the warning lights for from the list below.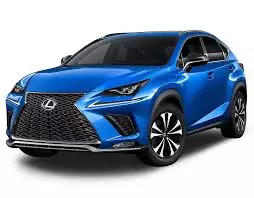 About the NX
As far as luxury crossover SUVs go, the Lexus NX is a serious contender. The 'NX', according to Lexus is to be translated as a 'nimble cross over' in a 'does what it says on the tin' type of fashion.
Lexus debuted this model in 2014 and from then on it has proven extremely popular. To say that the sales were good is probably an understatement, statistically, the NX is the best-selling Lexus in Europe and the best luxury line in Russia. As Lexus is now a division of Toyota, the NX actually shares its wheelbase with the RAV4 as well as its basic structure.
There have been numerous facelifts, these perhaps more noticeable in Northern America with some variations translating visually into more of an off-road aesthetic. There are also three power strains available, making it suitable for a wide range of customers and their varying priorities; NX200+/300, NX 300H and NX 200. The first, for example, is a 2-liter turbo, 4-cylinder with a direct injection engine. A 2nd generation was introduced to the market in 2021 on the 11th of June, bringing with it an ambitious number of variations on the trim. These 6 options featured both 3 gasoline and 3 hybrid engines. The new plug-in hybrid engines are not to be confused with Lexus' former self-charge hybrid, the older hybrids featured much smaller batteries that required continual charging whereas the new NX is a fast charger.
Internally, the Lexus NX gives you everything that you would expect from a premium, high-end badge. Just some of the features the newest generation provides are illuminating door handles, alters for upcoming obstacles, ambient lighting, panoramic rooves and kick sensors.
Visually, the NX is nothing short of stunning, with Lexus' trademark sleek lines and aggressive front grill; with fantastic global sales it shows no signs of slowing in popularity.