Select Your Model Year...
Choose the appropriate model year for the Lexus IS you are trying to find the warning lights for from the list below.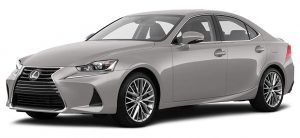 About the IS
The IS is built by the luxury division of Toyota, Lexus since the year 1999. Originally called the Lexus Altezza, it was introduced as an entry-level sports model sitting just below the ES.
The first generation started sales in Japan in October 1998 and later debuted in Europe in 1999. Lexus wanted to create a superior luxury line that would surpass previous Japanese models.
The engineering was undertaken by Nobuaki Katayama and as a result of his work, the IS won Japan's car of the year in 1999. A year later, Lexus introduced a hatchback and station wagon to their lineup with a 3.0-liter straight-6 engine.
This new IS had better features than its previous counterparts to include a pop-up satellite navigation and chronograph style instrumental panel. American sales exceeded expectations with 22,486 units sold. Unfortunately, subsequent sales were not as good which led to a small facelift in 2003.
The second generation was revealed at the Geneva Motor Show in March 2005 where Lexus decided to discontinue the name Altezza due to the new Lexus Marque. In North America the IS models were sold at the launch including the IS 250 and the IS 350 sedans and the IS 250 and IS 220d sedans in Europe.
The IS 250 is also sold in Australia, New Zealand, Thailand, Singapore, Hong Kong, Taiwan, Chile, South Africa and South Korea. Lexus emphasized luxury by adding memory leather seats, electroluminescent instrument display lighting, smart access keys and a push-button start.
The third generation was showcased in 2013 at the Paris Motor Show and then a little later at the Shanghai Show, all models had rear-wheel drive and incorporated designs from the LF-LC concept and Lexus LFA. This latest line had 2.5-liter 4-cylinder petrol engines, daytime running lights and a rear spoiler. A few years after the initial release of the third generation, Lexus released the IS F Sport with dramatically improved handling and an aggressively styled exterior to ensure it could be distinguished from the basic model.