Select Your Model Year...
Choose the appropriate model year for the Kia Sonet you are trying to find the warning lights for from the list below.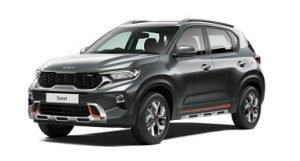 About the Sonet
The Kia Sonet is a compact SUV, first produced in 2020, that aims to compete against rivals such as the 2018 Hyundai Tucson and Ford Escape by providing a decent level of equipment for a very reasonable price. The Sonet gets a lot of things right, such as the interior and the overall ride of the car. However, it does fail to offer value for money, as the most equipped models are some of the most expensive on the market. So, the Kia Sonet simply isn't competitive in the market, due to its price tag.
Under the hood, the Kia Sonet comes with a few options of engine. A 1.5-liter diesel engine can be selected on standard models. This engine is pretty slow and won't compete with many European rivals in terms of performance. But it is reliable, dependable and economical, which makes the Sonet ideal for anyone who just wants to get around comfortably and affordably.
A smaller, less powerful petrol engine can also be selected. However, this is seriously low on power and can make the Sonet feel out of place on the motorway. So, if you can afford it, the diesel engine is the best choice.
The overall ride of the Kia Sonet is surprisingly good. The suspension is soft enough to soak up most of the road's imperfections, but not so soft as to compromise performance. And the steering feels light and accurate. Although, there is a fair amount of body lean in corners.
One of the Sonet's best features is its interior. Not only is it well made, with a modern design, but it's also packed with the latest tech and safety equipment. All models come with excellent safety features, like warning lights for the car's internals, and parking sensors. There's also a good level of infotainment, like a touchscreen which comes as standard.