Hyundai Santa Fe Warning Lights
---
Select Your Model Year...
Choose the appropriate model year for the Hyundai Santa Fe you are trying to find the warning lights for from the list below.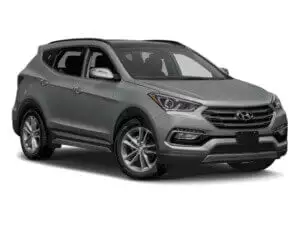 About the Santa Fe
The Hyundai Santa Fe is a large SUV that can hold up to seven people, making it a great choice for families. The car has some of the best storage capabilities out of any SUV on the market and can outclass the likes of Peugeot and Lexus.
This Santa Fe prides itself on its hybrid capabilities. Drivers can opt for either a 'self-charging' hybrid or a regular plug-in hybrid. The self-charging hybrid will accelerate from 0-60 in 8.4 seconds, which actually feels pretty quick for a car of this size. Meanwhile, the plug-in hybrid will take just 0.4 seconds more to reach 60 miles per hour. The plug-in hybrid has a quoted electric range of 36 miles, which is also very respectable. Overall, the Santa Fe feels more than powerful enough, and the hybrid system gives the car great fuel economy.
As a family car, the Santa Fe should have great suspension and handling. Luckily, Hyundai hasn't disappointed in this respect. Firstly, the suspension feels extremely expensive. You'll hardly notice even the biggest of potholes and these won't be enough to wake up sleeping children in the back. Couple this will solid handling, that makes the car feel much lighter than it is, and Hyundai is really on to a winner with the Santa Fe.
The interior of the Santa Fe is also sublime. The interior materials feel much more premium and sturdier than rivals, such as the Peugeot 5008, and the all-around black design is very eye-catching. Nothing feels cheap, and it's generally a great place to be.
In terms of infotainment, the SUV is packed to the brim. The centerpiece is the 10.3-inch touchscreen, that allows phone connectivity and mirroring. This is a great design and is extremely responsive and easy to use. You'll also find a great sound system and pretty much every other handy feature you could think of. This makes the Santa Fe an all-round excellent large SUV.