Ford Mustang Warning Lights
---
You can find 22 popular Ford Mustang warning lights and symbols on this page that when clicked take you to a detailed description.
Symbols Index
(click for more information)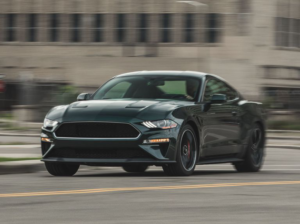 About the Mustang
Looking back at the history of the Ford Mustang you will find ups and downs starting with its release in the mid-1960s.
The first examples of the Mustang were smaller cars built upon the compact Falcon chassis also sold by the American automobile manufacturer.
It wasn't until the company experimented with putting more powerful V8's into a larger version of the car in the late 1960s that sales exploded.
Customers were loving these larger gas-guzzling versions with flamboyant designs and aggressive styling.
Things were going great for the Mustang model until the oil crisis of the mid-1970s sent oil prices four-fold over the space of just 3 years.
Unfortunately for Ford, this came at the same time as the release of the second-generation model and customers flocked to lighter Japanese sports cars with better fuel economy.
To combat these changes in the market the Mustang was redesigned (for 1979) as a compact car with a set of smaller engines, more seats and increased practicality as a daily driver.
Another compact car version was released in 1994 moving further away from the traditional design, helping the company cling to some of the sales in the market.
When 2005 rolled around the new Mustang was designed to be very much like the original from the 1960s and features both economical and sporty engines.
For the 2015 sixth-generation release the company doubled down on the revamp of the traditional design and buyers were delighted to find the sports car aspect of the model is made a high priority once again.
Attempting to offer a family car with performance packages harms the sporty appeal of the vehicle, so Ford has decided to keep this model focused on the high-end market with families pushed to crossover SUVs and sedans like the Fusion.