Citroën C2 Warning Lights
---
Select Your Model Year...
Choose the appropriate model year for the Citroën C2 you are trying to find the warning lights for from the list below.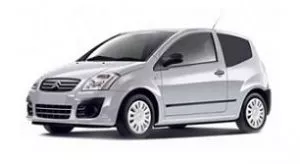 About the C2
Following the successful 8-year run of the Saxo, Citroen decided to replace it with a newly updated supermini, the C2. Where the Saxo (dubbed 'The pocket rocket' by its fans) ended production in 2004, there was a brief overlap and the C2 went on sale in August 2003.
Built in the Aulnay Plant, Paris the vehicle was created by Donato Coco, a designer made famous by his more recent work for Ferrari. In terms of size, the C2 fits neatly in between the C1 and C3, but due to a lack of marketing, faired quite a bit worse than its sisters.
Despite its relatively disappointing sales, the C2 was named the best European hatchback in 2003 and had several trims designed to appeal to a wide variety of people. The LX was the base model, with basic plastic bumpers, the L had the addition of a CD player and fog lamps, the SX was considered part of the luxury line and had all the former benefits plus air conditioning.
To honor its predecessor, Citroen carried over the various sports package names from the Saxo, these were the Furio, VTR and VTS. A full body kit including alloy wheels was given to the C2 'GT' where just 2,500 were produced, each with their own letter of authenticity.
2007 saw a new facelift with a new grille (a common upgrade) and a larger front bumper, the trim levels and names were kept the same. For the age, the C2 carried with it some modern technologies that would perhaps be more synonymous with a higher premium brand.
After 2007, the C2 could be bought with the installation of the new 'start and stop' feature (a function that saves on fuel and emissions that will automatically switch the engine off when at a standstill e.g. waiting at traffic lights, then instantly restart when the accelerator pedal is depressed).
In addition to the 'start and stop' function, the C2 also had the ability to activate an automatic clutch when changing gears manually, this meant that the clutch pedal was done away with completely. In 2009 production ended with the DS3 replacing all models.