Cadillac XT5 Warning Lights
---
Select Your Model Year...
Choose the appropriate model year for the Cadillac XT5 you are trying to find the warning lights for from the list below.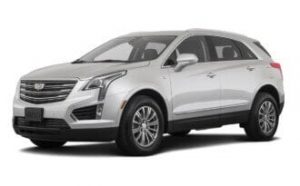 About the XT5
The Cadillac XT5 is a compact SUV that attempts to provide unparalleled luxury to its customers. It features great styling, on the inside and out, with practical features like a generous boot. However, the overall ride is generally ruined by a poor engine and handling, and the XT5 generally misses fails to impress as a luxury compact SUV.
Under the hood, the Cadillac XT5 is equipped with a four-cylinder turbocharged engine which produces 237 horsepower. There's also an option for a V6 which will bump this figure up to 310. If you're not putting your foot down, these engines feel great. However, put any pressure on the loud peddle and the engine noise is unbearable. Not only does the engine sound horrible, but the noise leak into the cabin is some of the worst in any SUV and takes away from the luxury experience that Cadillac tried to offer.
The handling is also disappointing. The Cadillac will handle fine on most roads, but it lacks any substantive feedback. The car just lacks personality, which is a major turn-off for many petrol heads. The suspension is also awful, and if you go off of tarmac roads you will feel every single bump.
This mood is also shared among the other sibling models across brands under the General Motors umbrella that use the same platform. These include the Chevrolet Blazer and the Chevrolet Equinox to name just a few.
The interior of the car is mediocre at best. Perhaps the best feature is the enormous boot which has enough room for 10 large suitcases. The XT5 outmatches nearly all of its rivals in this regard, making it an incredibly practical option.
However, this is where the praises end. The materials feel cheap for a luxury SUV and the overall design feels all over the place. This is disappointing, considering the practicality of the XT5.
As for infotainment, the XT5 comes with an 8-inch touchscreen as standard. This is sharp and responsive and is placed in a convenient location on the dashboard. Other interesting features include an array of USB ports, standard automated emergency braking and adaptive cruise control.