Cadillac XTS Warning Lights
---
Select Your Model Year...
Choose the appropriate model year for the Cadillac XTS you are trying to find the warning lights for from the list below.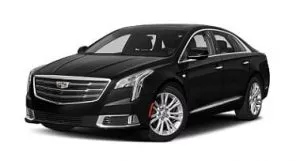 About the XTS
The Cadillac XTS is a cruiser built for both comfort and sport. It is cheaper than other contenders on the market, making it a compelling choice for many. However, lackluster performance and inadequate tech make the XTS inferior to many of its rivals.
As standard, this Cadillac comes with a V6 engine, producing 304 horsepower. This is fed to all four wheels and will accelerate from 0-60 in around 6.6 seconds. This is a little slower than some rivals but is still a respectable time.
If you want even more power, Cadillac does offer a V-Sport model that adds a twin-turbo to the V6 engine, helping it to produce 410 horsepower. This engine will allow the XTS to accelerate in a much more respectable 5.2 seconds, which is a much more competitive time.
As for the ride, the Cadillac XTS has both strengths and drawbacks. On the one hand, the suspension makes the overall ride incredibly comfortable. You won't feel even the biggest of bumps on the road, which simply adds to the experience of luxury. However, the steering is incredibly heavy. This takes away the sportiness of the XTS and is overall incredibly disappointing.
It is sat on a platform shared with other General Motors brand models such as the Buick LaCrosse and the Chevrolet Impala - in varying levels of luxury and features.
The interior of the XTS does feel luxurious. For instance, drivers will be greeted with plush seats which are incredibly comfy and certainly look the part. There are practical features too, such as folding rear seats which drastically improve the cargo capacity. However, the XTS simply isn't as impressive as its rivals. Other models, such as the Mercedes-Benz S-Class, use higher quality materials, offer more legroom and have better technology and infotainment. This seriously takes away from the credibility of the Cadillac XTS.
The Cadillac XTS scored an overall safety rating of 5 stars. This makes the car a great choice for anyone with a family, or generally wants to feel safer on the roads.