Select Your Model Year...
Choose the appropriate model year for the Lexus LS you are trying to find the warning lights for from the list below.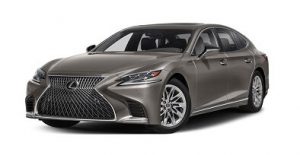 About the LS
The LS is one of Lexus' luxury sedans, in fact, this particular model is classed as their flagship, and with good reason. The first generation was only available as a V8 with power fed through a rear-wheel drivetrain.
It has actually been four notable generations to date and these have changed drastically over the years, to the point that you probably wouldn't even realize it's the same car. The very latest dramatic change, and it's fourth-generation features an all-wheel hybrid. This has obviously been built with the more modern customer in mind.
The markets shift to planet-saving SUVs has given rise to the height of the vehicle and the length. The Lexus LS now has one of the longest wheelbases found on any car in their range.
The Luxury sedan first debuted in 1989 and where it featured a hefty V8 engine, Lexus decided to briefly remove this option in later years. Where it holds the rather simplistic name tag 'LS' in European and American markets, for Japan, Lexus decided to go with a rather more descriptive name 'Crown and Century.' The early models did fairly well in Japan and Asian markets, enjoying brief success but it was never a real contender when put up against the German powerhouses, namely Mercedes and BMW. Ultimately, even Jaguar outsold this model.
When the vehicle was rebranded and sold as a long wheel-base SUV, Lexus focused on making some serious improvements, hoping that these would help bring the LS up to the same standard and sales figures as other premium brands. One of the most noticeable differences in the later models compared to those in the 1990s or 2000's is the suspension. The styling is much more sleek and far less boxy than the sedans of the 90s. The new LS, as you probably expect, has much lower emissions, lane change technology, steering assistance and advanced parking assistances, making it an incredibly easy car to make long journeys in. The latter modifications were brought in just recently in 2021.
Because of the new lane change technology, the Lexus LS enjoys a good reputation for being an extremely safe car. There are currently two main wheelbases making two distinct variations with different engine options. 4.61 V8 (LS460) and the LS600h which is a 5-liter V8 rear-wheel drive.