Select Your Model Year...
Choose the appropriate model year for the Kia Niro you are trying to find the warning lights for from the list below.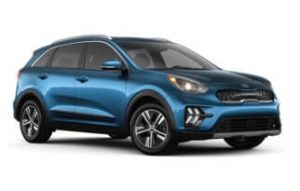 About the Niro
The Kia Niro is a hybrid family SUV. It focuses on being economical and efficient, as well as less harmful to the environment, by producing less C02 emissions than other cars. The Niro faces stiff competition from the likes of Vauxhall and Toyota, and at times is outclassed by its competitors.
Under the hood, the Kia Niro is fitted with a 1.6 Litre petrol engine as well as a small electric motor. Combined, these two engines produce around 139 horsepower, which is pretty average for a hybrid family SUV. You can upgrade the smaller battery to a bigger 8.9KWH cell, which will allow you to drive 30 miles on electric power only. The Niro does leave a lot to be desired, especially when you try and join the motorway. It feels very sluggish, but for most town driving, it should be fine.
The Niro does do a great job in terms of ride comfort. The suspension is soft, and there is hardly any engine noise inside the cabin. You won't even notice small bumps in the road, but might want to avoid bigger potholes for a smooth ride.
Kia opted for a budget-friendly interior with the Niro. That being said, the cabin is actually a very nice place to sit in. There's leather upholstery, and high-quality plastics all around the cabin, which makes it feel sturdy and reliable. As a family SUV, there's more than enough room for five people with luggage. This makes the Niro a very practical vehicle.
As for infotainment, the Kia Niro comes equipped with a 10-inch touchscreen infotainment center, that you can easily connect your phone to. It's not as fancy as more expensive models, but it does get the job done and it's incredibly easy to use.