Select Your Model Year...
Choose the appropriate model year for the Kia EV6 you are trying to find the warning lights for from the list below.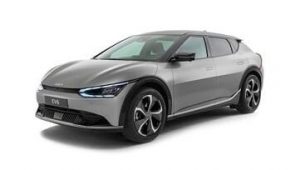 About the EV6
The Kia EV6 is an electric SUV that checks all of the criteria for a truly brilliant car. The company has had some practice making electric cars, and their experience has allowed them to create the EV6- a car that can charge more quickly than a flagship Tesla and can accelerate faster than a Porsche. There isn't much to fault with the EV6 and it's overall a great choice for anyone looking to go electric.
In terms of the chassis, the EV6 comes equipped with a motor that spins the rear wheels only. The motor produces 226 horsepower, which allows the electric car to accelerate from 0-60 in just under 7 seconds, which is very fast for an SUV. This motor also gives the EV6 a claimed range of 328 miles, which is another impressive figure. There is a newer model coming later in 2022 too, that will accelerate from 0-60 in 3.5 seconds, thanks to a 577-horsepower motor.
It is built on a shared all-electric platform that is also used under the Hyundai Ioniq 5 and the more premium Genesis GV60.
The suspension of the EV6 is on the firm side. This might seem like a drawback, and it probably is if you want a car built for comfort. But, if you like to drive for the fun of driving, this suspension is a dream come true. It allows the car to stay agile and alert, and when coupled with that power, the EV6 feels like a sports car at times. The handling is also sublime and makes the driving experience incredibly responsive and sharp.
Another perk of the electric motor is that it makes the EV6 very quiet. There's nearly no interior noise or vibration, which adds to the comfort and luxury you feel whilst driving such a machine.
The inside of the EV6 is just as flawless as the outside. As an SUV, you expect a large boot, and the car doesn't fail to disappoint. You'll be able to fit several passengers, all with luggage, with room to spare.