Infiniti QX60 Warning Lights
---
Select Your Model Year...
Choose the appropriate model year for the Infiniti QX60 you are trying to find the warning lights for from the list below.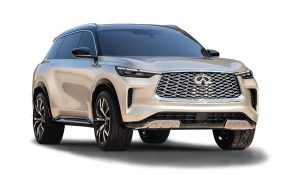 About the QX60
The Infiniti QX60 is a mid-size luxury SUV that doesn't fail to amaze and has even become a big competitor for leading European brands such as Audi and BMW. It features an incredibly elegant style, great practicality, and smooth performance. However, some parts of the QX60, such as the suspension, remain unrefined.
Under the hood, the QX60 features a V6 engine that produces 295 horsepower. This is fed to the front wheels (or all four if you get a top trim) via a 9-speed automatic transmission. Speed isn't the aim of this engine, but this isn't to say the QX60 is slow- in fact, it's very fast for a mid-size luxury SUV. But, this big engine is intended to give the QX60 a towing capacity of 6000 pounds, which is one of the biggest capacities on the market. This makes the SUV an incredibly practical choice for anyone who owns a caravan, or frequently tows other cars.
The biggest disappointment in terms of performance and drives comes by way of the suspension, which feels far too soft. This does increase the comfort of the QX60, but it also hinders its performance greatly. Hopefully, future models will address this problem, as it can really take away from the driving experience of the QX60.
Underneath, the car shares much of its chassis with the Nissan Pathfinder, showing its true offroad potential.
The interior of the QX60 is a beautiful place to be. A leather trim envelops the cabin, which screams luxury and a modern design. There are also some elegant storage solutions, such as small cubby holes and a brilliantly shaped boot. This makes the car as practical as it is pretty.
As for technology, the QX60 doesn't disappoint. A 12.3-inch touchscreen infotainment centre comes as standard. This is incredibly sharp and convenient to use. There are also many other features, such as climate control and massaging chairs.