Fiat Panda Warning Lights
---
Select Your Model Year...
Choose the appropriate model year for the Fiat Panda you are trying to find the warning lights for from the list below.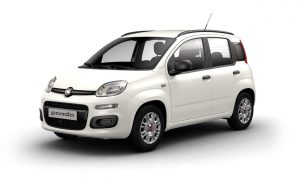 About the Panda
The Fiat Panda has a long production history going all the way back to 1980. Even after more than 4 decades of being on the road, the Panda is still only in its third generation. Each generation has brought many revisions, of course, as well as special editions. Despite many controversies and criticisms from some over the years, the Panda endures as one of the longest continuously running.
The Panda was originally conceived as a city car, offering similar utility to an SUV, but while being small and compact enough to manage tight European city streets. It boasts a very tight turning circle, and a slew of options to make it trendy and more cosmopolitan, or more affordable depending on your budget. It even offers off-road friendly 4x4 features, meaning those living in rural areas can even take advantage of the car's design and price point.
This is part of the reason that one Fiat executive has described the Panda as "the official car for doing whatever the hell you like."
Early Fiat Pandas from the 1980s and 1990s didn't exactly look like the hatchback/crossover mix that you see in them nowadays. They were much more geared towards the compact hatchback market, with the smallest having just a 650cc powertrain, and the "big engine" being 1.0L.
Over the years, however, it grew into different forms, large and small. By 2003, it had evolved into the second generation --- aka Mk3 --- which looked like the more familiar SUV-minivan-hatchback hybrid style that we see today. The Mk3 enjoyed sales between 200,000 and 300,000 units annually in most of the years it was on sale.
The arrival of the third-generation models spawned multiple Panda offshoots, including the bi-fuel Panda EasyPower, the 4x4 Panda Trekking and Panda 4x4, the crossover SUV Panda Cross, and the Panda Hybrid. That was before all of the other special editions that were created!