Cadillac XT4 Warning Lights
---
Select Your Model Year...
Choose the appropriate model year for the Cadillac XT4 you are trying to find the warning lights for from the list below.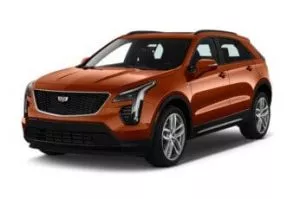 About the XT4
The XT4 is the company's smallest SUV but attempts to fill the small space with luxury and class. For the most part, Cadillac has succeeded. The XT4 features great styling, an abundance of technology and handy features, and enough cargo space for most drivers. However, the XT4 falls short in several areas, such as poor engine noise and an uncomfortable ride.
This Cadillac is equipped with a four-cylinder turbocharged engine, which produces around 235 horsepower. There are options for both front-wheel-drive and all-wheel-drive. The XT4 will accelerate from 0-60 in 7.8 seconds, which is pretty slow when compared to rivals from BMW or Audi. However, in the real world, this engine is more than enough, and you won't have any trouble overtaking on the motorway.
A big issue with the XT4 is its handling. The car steers like a bus! The wheel feels disconnected from the tires and turning around tight corners can feel like a challenge. This is disappointing and takes much of the fun out of driving the XT4.
Another disappointing part of the Cadillac XT4 is its interior. Whilst it does feel premium when compared to a budget SUV, it feels very cheap in comparison to rivals of its own price range. For example, the XT4 uses faux leather and cheap plastic, whilst the BMW X1 uses real leather and premium plastic. Despite this, the model does offer a good amount of cargo space, and there will be more than enough room for 4 passengers.
As for infotainment, the Cadillac XT4 is equipped with an 8-inch touchscreen as standard. This is well positioned and features fast response times and sharp graphics. You can connect several devices at once too, which is a nice feature. Other than this, the Cadillac is packed with tech such as adaptive cruise control.