smart fortwo Warning Lights
---
Select Your Model Year...
Choose the appropriate model year for the smart fortwo you are trying to find the warning lights for from the list below.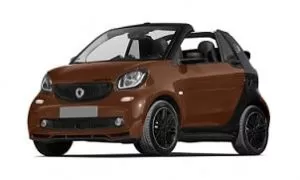 About the smart fortwo
Built as a rear engine 2 passenger vehicle, the Smart ForTwo is classed as a hatchback ultra mini. The Smart Automobile Co. Ltd is a company that has enjoyed input from a number of leading car (and watch) manufacturers.
As strange as it may sound, these little 'For' Series cars (ForTwo and ForFour) took a design lead from the Swiss company Swatch and Mercedes Benz. Arguably a revolutionary concept, the Smart ForTwo debuted in 1998 and was a mere 2.5 m in length.
Marketed to predominantly City drivers, these little cars could maneuver easily about the streets and sneak into tight parking spots, in some cases head-on! In later generations, the passenger seat was situated 15 cm further back from the drivers, just to allow for further cabin space and the illusion of a wider vehicle. Made at Smartville Daimler Assembly Plant in Hambach, France, the ForTwo could be purchased as both a coupe and a cabriolet, with a long canvas roof folding concertina style into the boot.
For a small car, it only required a small engine, and so the first vehicles were created with just a 599 cc petrol engine with a 45 brake horsepower capability (with the option to increase this to 51 or 61 bhp). Four years later, a 698 cc engine was introduced along with the new facelift and a new turbo diesel had an additional 100 cc. With arguably unimaginative names (the City-Coupe and the City-Cabriolet), the ForTwo had a number of trim levels, Trim-Pure, Pulse and Passion. These variations were fairly basic, with only a bare-boned audio system installed as standard; the higher-end vehicles added alloy wheels, panoramic glass roofs, paddle shift gears, air conditioning and a sequential gearbox.
The second generation began sales in 2007, these were a good 200 mm larger due to the installation of new safety gear in a bid to achieve a greater score in crash tests. Aesthetically, the ForTwo remained largely unchanged but there were a number of new features created for this new release, namely stop-start technology, a belt-driven starter generator, side airbags, antilock brakes and electric stability control.