Select Your Model Year...
Choose the appropriate model year for the Saab 9-5 you are trying to find the warning lights for from the list below.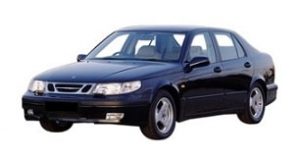 About the 9-5
Described as an executive vehicle and built by the Swedish car manufacturer Saab, the 9-5 first started production in 1997 and replaced the Saab 9000. Pronounced ' nine-five' and not 'ninety-five', (and also not to be confused with the Saab 95 in existence between 1959 – 1978), the 9-5 was built as both a sedan and a station wagon. The Station Wagon version had floor tracks to assist with cargo and a sliding loading floor, it was also the first production vehicle to have ventilated seats.
Along with the first generation came a new and smart safety feature, the Saab active head restraints (or SAHR), these would move in accordance with the individual in the event of a crash to actively prevent whiplash. This instillation won Saab the technical and safety awards in Denmark, Australia and the UK. In addition to the SAHR, Saab also had side crash protection with torso airbags and head safety cage. The 'Night Panel' would only allow the essential alerts on the dashboard to shine at night time, therefore removing driving distractions. All models had cassette players, with customizable CD changes, a satellite navigation system, leather heated seats, cruise control and factory installed phone system.
All these extras and the reliability of the vehicle made it perfect for the police force and so was adopted by Sweden (along with the Volvo V70), the UK and Aspen, Colorado (the Colorado 9-5 police car was eventually replaced by the Volvo XC90).
The second generation only lasted two years from 2010 to 2012, it was built upon the Global Epsilon platform and was showcased at the Frankfurt motor show. There were several trim levels, Turbo 4, Turbo 4 Premium, Turbo 6 XWD and the top level Aero, with the edition of a station wagon variant, the Sport Combi. Following Saab's bankruptcy, production ended abruptly in 2012.