Kia Sedona Warning Lights
---
Select Your Model Year...
Choose the appropriate model year for the Kia Sedona you are trying to find the warning lights for from the list below.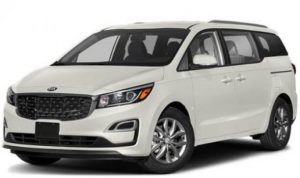 About the Sedona
There's a bit of a stigma surrounding minivans, that they're ugly, loud and unrefined. The Kia Sedona breaks all of these stereotypes with its clean and refined styling, and great engine. On the roads since 2001, the Sedona has evolved into a well-rounded van, which can keep up with tough competition like the Honda Odyssey and Chrysler Pacifica. Its best features are the smooth V6 engine under the hood and the amount of car you get for your money. However, the cabin does fail to impress, and rivals can offer better reliability in the long term.
Older Sedona's used to be equipped with boring four-cylinder engines, which were pretty loud and slow. But newer versions, like the 2021 model, come equipped with a V6 as standard. This is pretty much perfect for most everyday tasks, and you'll only have to put your foot down when you join the motorway. The engine is, however, more unreliable than competitors, and don't be surprised if you see a warning light pop up. The most unreliable part about the V6 is the real-world MPG, which is significantly lower than what the company states.
The Kia Sedona is a minivan, so it's never going to handle excellently. But, for its class, the ride is actually pretty good. Over tarmac, the model will soak up most of the road's imperfections, which will leave you with a fairly comfy ride. And the steering is nice and sharp, which makes a car as big as the Sedona feel agile and maneuverable.
The cabin of this Kia is the most disappointing part. The cabin is far smaller than competitors, so if you're looking for something practical, you might want to consider the Honda Odyssey. Furthermore, the interior looks boring and lacks any kind of customisability.