Cadillac CTS Warning Lights
---
Select Your Model Year...
Choose the appropriate model year for the Cadillac CTS you are trying to find the warning lights for from the list below.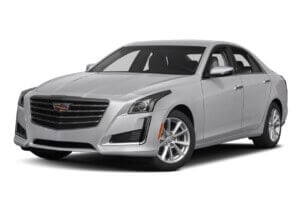 About the CTS
The Cadillac CTS is an executive sedan that was first manufactured for the 2003 model year. It was marketed as a mid-size luxury sedan, and was built across 3 different generations before being replaced in the 2020 model year with the Cadillac CT5.
The CTS was first powered by a base-level 3.2L V6 engine outputting up to 220-hp, with an upgraded 3.6L C6 available from 2004. The 2004 model year also brought along the high-specification Cadillac CTS-V model that had up to a 6.0L V8 engine that delivered up to 400-hp and 395 lb-ft of torque.
While the first generations were meant to be a successor to the Cadillac Catera, the CTS actually was presented as a more square-lined boxy exterior design concept that gave a nod to the more classic Cadillac look. The differentiator with the CTS compared to classic Cadillacs was its more aggressive overall look that fits well with the 21st-century love of bold, clean lines and a sportier edge.
By the final model year for the CTS when the car was in its third generation, the CTS had a relatively affordable starting price of around $47,000, and was lauded for its excellent on-road performance. Its handling and raw engine power were points of praise. On the other hand, some criticism was leveled at it for having fairly limited space on the back seat.
The interior of the CTS always carried an elegant and simple edge over much of the competition, but other brands had started to overtake the Cadillac brand by the end of the CTS's production life. The latest models were criticized for having too many different materials to make up the interior design.
Having said that, Cadillac was always generous with the features, making just about everything apart from navigation a standard option. There was an 8-inch touchscreen, multiple USB ports, smartphone connectivity, Wi-Fi hotspot and more.